Tehnopol Startup Incubator helped startups reach European markets
Tehnopol Startup Incubator brought together startups, investors, companies and mentors under the Scale-up Champions project to help startups expand into four different countries and create new contacts.
Launch your startup into a new market: What's the magic formula
Soft-landing is not an easy task for startups, especially for the ones disrupting deep-tech industries. It is usually rough and challenging rather than soft. By combining fresh industry updates and practical experiences, we found that industry experts, community partners, and the right contacts make it happen much more fluently. The most promising teams, developing robotics, AI-based, smart city, and other tech solutions, joined Scale-up Champions Market Discovery Tours in Spain, Denmark, Lithuania, Poland, and Estonia. How did it go?
It is all about the trust
Here are the stats: 40+ startups, 4 countries explored in live tours, also one online series of sessions with the Silicon Valley entrepreneurs' community, true experts in transforming startups into global players. Participants were impressed by the tight and intensive schedules because there were a lot of entrepreneurial topics to cover.
Founders basically follow the rule that if you know the market, probably you will not make the same mistakes that other competitors already did. Also, local partners can support building connections by opening their network of partners around the world, which will help to find potential future customers and build the trust that can ease your way into the new market.
"For growth companies, it is very important to find the market fit in international markets and be aware of the competitors already operating in the country. Therefore, knowledge sharing in terms of local markets (insights, suggestions, validations, preparation, and more) help the companies to facilitate their growth more easily, with low risk and low cost", says one of the Scale-up Champions partners, Kadri Tammai, the Head of Tehnopol Startup Incubator.
Started in Spain with a focus on Industry 4.0
The Scale-up Champions Market Discovery Tours started at the end of March, in Spain with a focus on Industry 4.0.La Salle Technova Barcelona innovation community was the first one inviting startups to get to know the deep-tech landscape, especially developing Industry 4.0 innovation. At the international "Advanced Factories" expo and congress, deep-tech communities met to discover new prospects and how to overcome current challenges, brought on the surface by Pandemics, digitalization rush, logistics disbalances, the shortage of electronics' resources and geopolitical insecurities.
Meeting the Silicon Valley experts
The next stop during these tours was in Lithuania where startups discovered the local innovation community and there was a lot to talk about fintech and life science-friendly business environments. Founders from all over Europe had an opportunity to test the strength of their business and their readiness for international markets by doing stress-test training with experts from the Silicon Valley.
Green-tech hubs and shift towards sustainability
In the beginning of May, Scale-up Champions' teams and partners joined 15 rising startups in celebrating their success in Copenhagen, Denmark. Estonian startup Up Catalyst, a company developing a method to produce sustainable carbon nanomaterials and graphite from CO2, received a special prize on the Pitch scene.
It was a striving experience to explore the huge DTU Skylab Innovation Hub, where startups collaborate with R&D departments. It activates innovation-open culture and environment to develop robots for education or create sustainable materials for industries. The tour continued outside the Copenhagen area, where a multi-disciplinary green engineering consultancy company NIRAS has built the green tech hub for startups.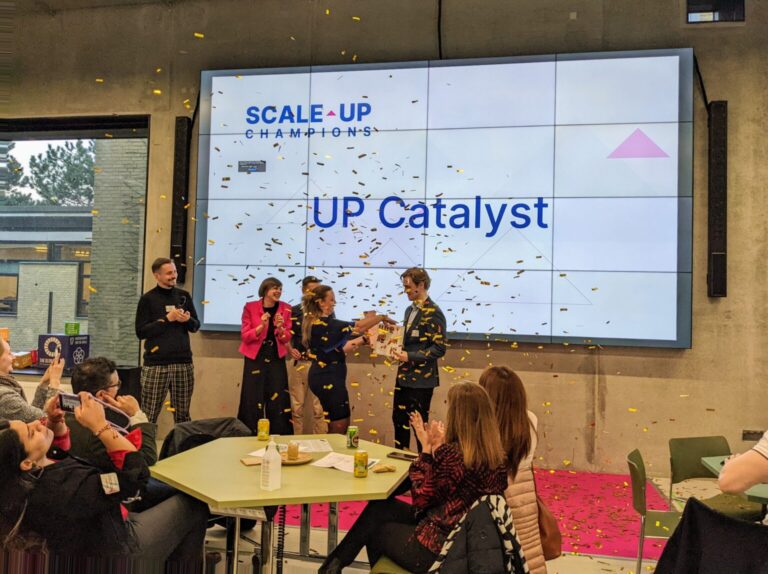 Striving fintech and funding opportunities
Poland's deep-tech sector is growing intensively due to tech talents, cutting-edge R&D landscape, and funding options for fintech, robotics, and AI startups. The week in the middle of May at Poznan science and technology park was all about it. The Park has attracted key corporations and investors to share their knowledge on starting innovative businesses in Poland.
Entrepreneurship boost from the land of unicorns
No doubt, Estonia scores in unicorns per capita in Europe. There are 10 of them in a 1.3 million inhabitant country. And the participants of the Scale-up Champions Market Discovery Tour had a chance to meet the latest one – fintech company Glia. They also had a meetup with Starship Technologies, a pioneering company in the logistics robots. Organized by Tehnopol Science and Business Park, the soft-landing program related to the visit to the flagship tech and startup conference in the region – Latitude59.
The impact continues
"Deep-tech startups tend to need more support; they need it for a longer period of time, and they also need bigger investments from the angels and VCs in their very early days. So from the investor's point of view, it is kind of a leap of faith, and we are also helping to bridge the gap between the investors and deep-tech startups to build that trust that is the very base of every such relationship", summarizes Kadri Tammai.
One of the Estonian startups to participate in the market discovery tours, was 10Lines that is based in Tehnopol campus. The startup builds autonomous robots that always deliver high-quality striping work. "Through Scale-up Champions market discovery research we gained a lot of new knowledge about the Spanish market and this will help us to be more prepared when entering into the market. We received information about different metrics from different organisations and municipalities as well as contacts of several potential clients", says Janno Paas, the co-founder of 10Lines.
Another participant from Estonia was Unsinkable Robotics. The startup offers an autonomous robot platform and its modular design allows drones to perform various tasks underwater. These drones can fix damaged nets and underwater equipment in fish farming facilities. It allows to reduce human labour needs in fish farming by up to 80% and thereby saving lives and reducing costs.
"We gained useful knowledge and feedback through the workshops provided on how to improve our business model, etc. One of the aims was also to learn how to express the deep-tech sector more clearly and simply to people who are not involved in this area. Practising pitching was very useful in front of potential investors, helping to achieve a larger sound surface in what we do. We got a pre-seed investment of 200k€ that is combined with 200k€ by soft funding. At the moment we have 3 pilots ongoing. Through strategic investors it is easier to reach new potential clients", says the founder Timmu Tollimägi.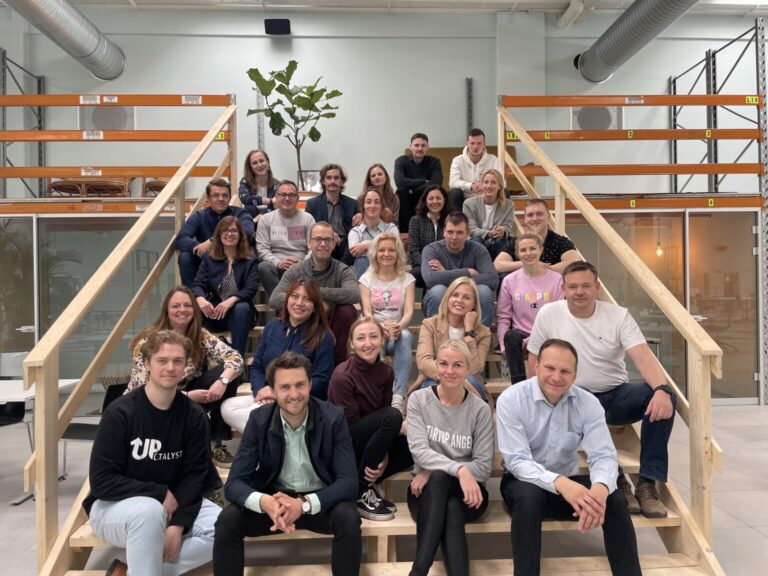 Scale-up Champions is an initiative that aims to scale-up innovative businesses across the EU and help startups to achieve market success. Following the support by the European Commission, "Scale-up Champions" aims to connect different European deep-tech startup ecosystems and support cross-border activities to standardize the growth routes in Europe.